Woman of the Week (W.O.W.), Week 1: Judith Sylvester
Editor's note: This is the first post of the Woman of the Week series, created and written by the PRSSA at LSU diversity committee as a part of Women's History Month in March. To get involved or nominate someone, please email the diversity committee at prssalsu@gmail.com.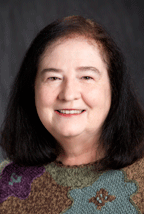 Judith Sylvester photo courtesy of manship.lsu.edu
Associate Professor Judith Sylvester is known for more than just her lessons in the classroom; she is the individual in charge of SmokingWords, an effort to make LSU a tobacco-free campus
SmokingWords began at LSU in 2000 with a grant from tobacco settlement money. Sylvester applied for the grant, and she was approved given that the funds would go to a communications program. Sylvester's interest in health communications and social marketing made the decision to create SmokingWords a natural one.
Now funded by grants from The Louisiana Campaign for Tobacco Free Living (TFL), SmokingWords is given about $17,000 a year. With that money, Sylvester and her team of eager students are obligated to put on two events each year: The Great American Smoke Out and Kick Butts Day.
Within the last couple of years, SmokingWords has coincided with the LSU Health & Wellness fair, which is put on by the LSU Student Health Center, to take a stand on tobacco. This year, SmokingWords will have a booth at the fair on March 20 from 9 a.m. – 3 p.m. in the Student Union.
Sylvester has been through ups and downs with her SmokingWords campaign. She has had success, but at times, she wanted nothing more than to give up. The secret to her success is persistence. The continued support from students and colleagues and knowing that tobacco is so unhealthy has helped Sylvester in her effort to make LSU a tobacco-free campus.
Through her time with the SmokingWords campaign, Sylvester admits that social media has made a huge difference.
"You really have to have a clear message," Sylvester said.
Getting the message out on as many channels has been beneficial for the SmokingWords campaign. With more involvement from students and other organizations comes greater awareness and possible donations.
To learn more about SmokingWords, visit www.mysmokingwords.org or follow their Facebook and Twitter.